Item request has been placed!
×
Item request cannot be made.
×
Processing Request
The SUTD Library took the bold move to create an academic library of the future like no other to support Singapore's 4th University's unique pedagogy and cohort-based learning and intensive research. The result: An innovative collaborative space for discovery and learning.
It places emphasis on encouraging interactivity and engaging the patrons to seamlessly exploit the vast wealth of information available. The Library provides an array of innovative technology & solutions for patrons to: Discover, Learn, Share & Connect.
The Library takes pride in extending use of its rich unique resources in the field of technology and design to the industry.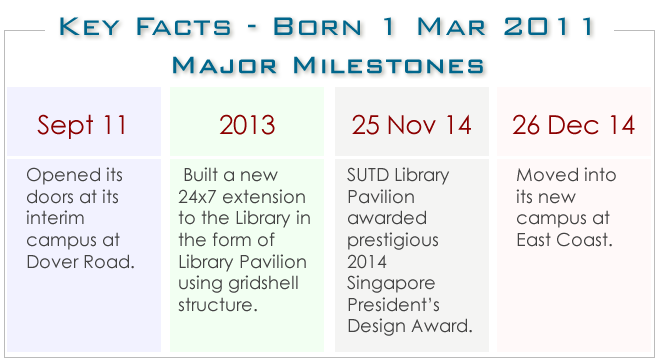 The 3 storey library spanning some 3000 sq m adopted an out-of-the box thinking to design an enriching experience where users can learn in a multitude of ways as follows:
Opening Minds to Possibilities | Thematic Exhibits and Showcase of faculty/student works

Programming space connecting people | Incubate ideas |
Read, Reflect and Share

Library expands into the open | An alfresco informal space | Chill-out, Read or Surf on a cool deck

Browse, read, reflect | Dabble with brain teasers

Interact, Brainstorm, Share | Collaborate and Learn | Space on demand

A truly sensory experience | Don't imagine, see, touch and feel | Be inspired by materials
Library Opening Hours
---
 
SUTD Faculties, Students & Staff and
Alumni Card Holders
Monday - Friday
8:00am - 10:00pm
Saturday
Closed (COVID-19 Arrangement)
Sunday
Closed (COVID-19 Arrangement)
Public Holidays
Closed
SUTD Library is temporarily closed to the public.